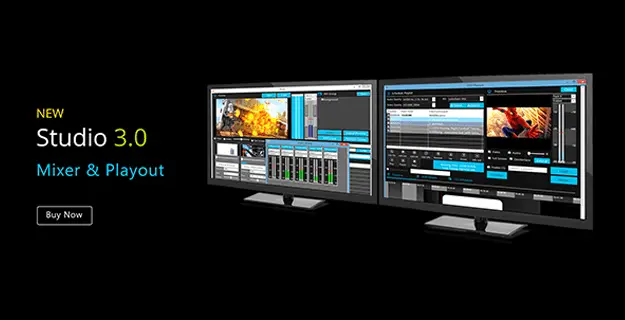 Did you know that you get this IVB7 playout software along with the IVB7 Livebox server?
Scheduling playlists and advertisements for your live TV channel has never been easier. No other provider provides an all rounded solution like IVB7 with it's suite of products to take you from start to finish of your professional TV channel setup. We have tested and proved products and solutions that are currently being used by several clients around the world to run their live TV channels.
Let's have a look at all the available features of the all new IVB7 Playout software that is provided with every purchase of LiveboxTM server.
With the IVB7 playout, you can stream and playout online without any additional cost with the integrated IVB7 webstreamer.
Schedule live TV quickly and easily.
Program Scheduler

Create playlists and restore playlist at anytime
Create and restore presets anytime
Add unlimited videos as long as there is sufficient computing power.
Supports video signal of any size from SD / HD / 4K / 12K or +
Adjust output resolutions for source formats of any resolution
Sort play list
View complete video details and total run time.
Ability to set start time and end times for each video.

Export to multiple destinations :

Play out to output video device
Play out to video file
Play out to the internet live
Play out to the live mixer
Play out to the extended monitor

Supports various input formats

Import and play video files of any video format (Supports most popular video formats)
Add multiple video inputs from other IVB7 equipments, Decklink or any other third party capture devices
Add live video from internet sources such as RTSP / RTMP sources
Ability to play out live screen

Add live CG and Overlays

Add video overlays to the content
Built-in CG editor to design overlays
Schedule overlays time wise, date wise and also possible with year wise.

CG Editor

• Ability to add multiple logo's.
• Ability to add scrolling text with different font style, font colour, shape colour and with different languages.
• Image sequence with CG is possible.
• Ability to multiple ticker content in a single preset.
• Supports flashing images..

Schedule Advertisements

Add live AD breaks between programs
Schedule AD breaks by time or by program
Ability to sort, add or remove files live
Ability to insert an instant AD at any point of time.

Audio

Increase the quality of existing audio.
Audio mixing through the audio mixer
Synchronize and rectify audio for files where audio is out of sync

Record live playout to video file with mixing and overlays
Seamless switching between videos
Ability to project interlaced video as deinterlace.
Import video footages, apply effects